Hokom and Allen battle lasted until final hole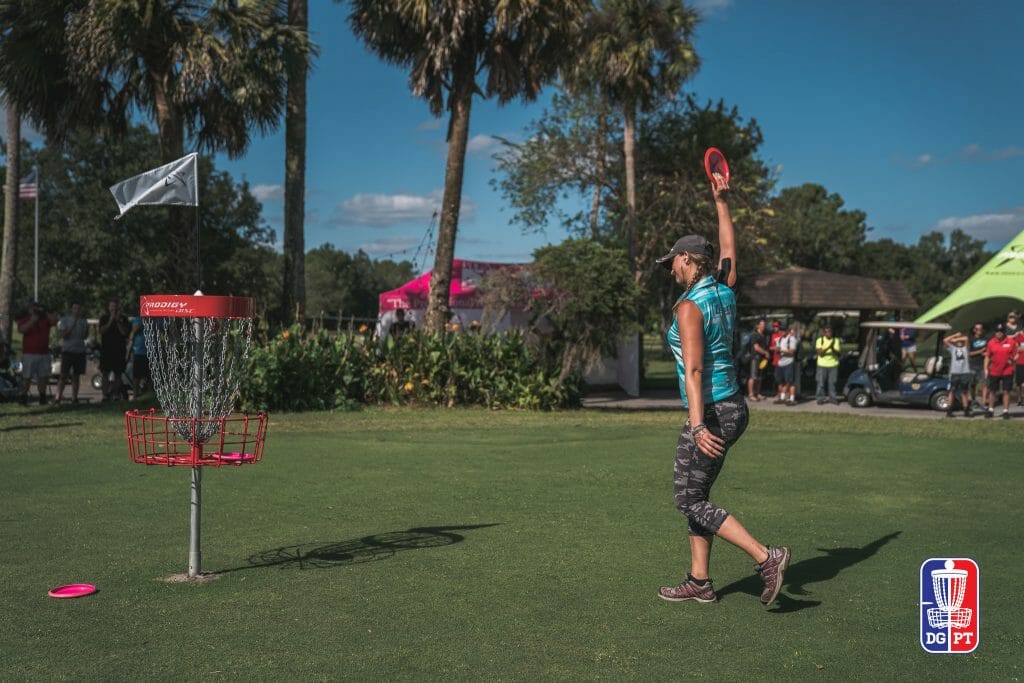 Sarah Hokom had long secured her position as Disc Golf Pro Tour regular season points champion heading into the weekend, and went ahead and added the Tour Championship title and $2,500 to the 2018 resume after a tight final round Sunday at New World Disc Golf in Jacksonville, Florida. 
It was back and forth between Catrina Allen and Hokom all day, with neither woman falling below second place, and only those two occupying the top two spots after hole 6.
Hokom carded a 3-under par 63 that included six birdies, leading the card in birdie percentage and Circle 2 putting. On a windy day where everyone struggled on the green, she hit 85-percent from Circle 1 and added a big putt from C2 on hole 9 for the only birdie on the card.
The biggest birdie of the day, however, came on the final hole. Tied with Allen for the lead with only the 755-foot par 5 left, Hokom flexed a forehand on her third shot to land about 15 feet from the pin. Allen was short on her approach, and after a long run at birdie, cleaned up a 25-footer for par. Hokom converted her putt for the birdie and win.
"I just realized I won," Hokom said on the 18th green in a post-round interview, noting she wasn't keeping tabs on her score. "I know I can get the birdie just throwing my shot, so there was no need to know the score.
"There was no decision to be made. Throw that shot, get around the corner, throw to the green, make the putt. There was no option of, 'Should I play conservative or should I get aggressive?'"
Allen looked to be in the driver's seat for much of the round, carding three birdies and a clean front nine. It wasn't until she went out of bounds on hole 14 resulting in her only bogey of the round, that Hokom found an opening.
"The momentum swing was 14, 15," Hokom said. "When we were all lined up to get the birdie and Cat threw her upshot out of bounds. And then the next hole I got it really close on the island hole and she had to make a putt that she missed…that was three strokes in two holes.
"That's when I felt the momentum shift."
Hole 15: Sarah Hokom lands the birdie to gain a one throw advantage over Catrina. Tune in now to watch the finals of the 2018 Disc Golf Pro Tour Championship presented by @prodigydisc. It's coming down to the wire! http://www.dgpt.com/watch

Posted by Disc Golf Pro Tour on Sunday, October 21, 2018
Hokom would take the solo lead on hole 15, before giving it up on the very next hole with a bogey. Allen and Hokom would both par hole 17 to maintain the tie, setting up Hokom's winning birdie on hole 18.
Allen led the final card in fairway hits, Circle 2 in regulation, Circle 1 putting and scramble percentage, but wasn't able to pick up enough birdies to offset the ill-timed bogey. She finished second at 2-under par 64 for a $1,500 payout.
Jessica Weese was keeping pace early, but a double bogey on hole 6A set a deficit she was unable to overcome. She finished with a 4-over par 70, good for third place and $1,250. Paige Bjerkaas struggled in the final round, but will still take home $1,000 for fourth place.