The wooded tract offers no relief after Pro Worlds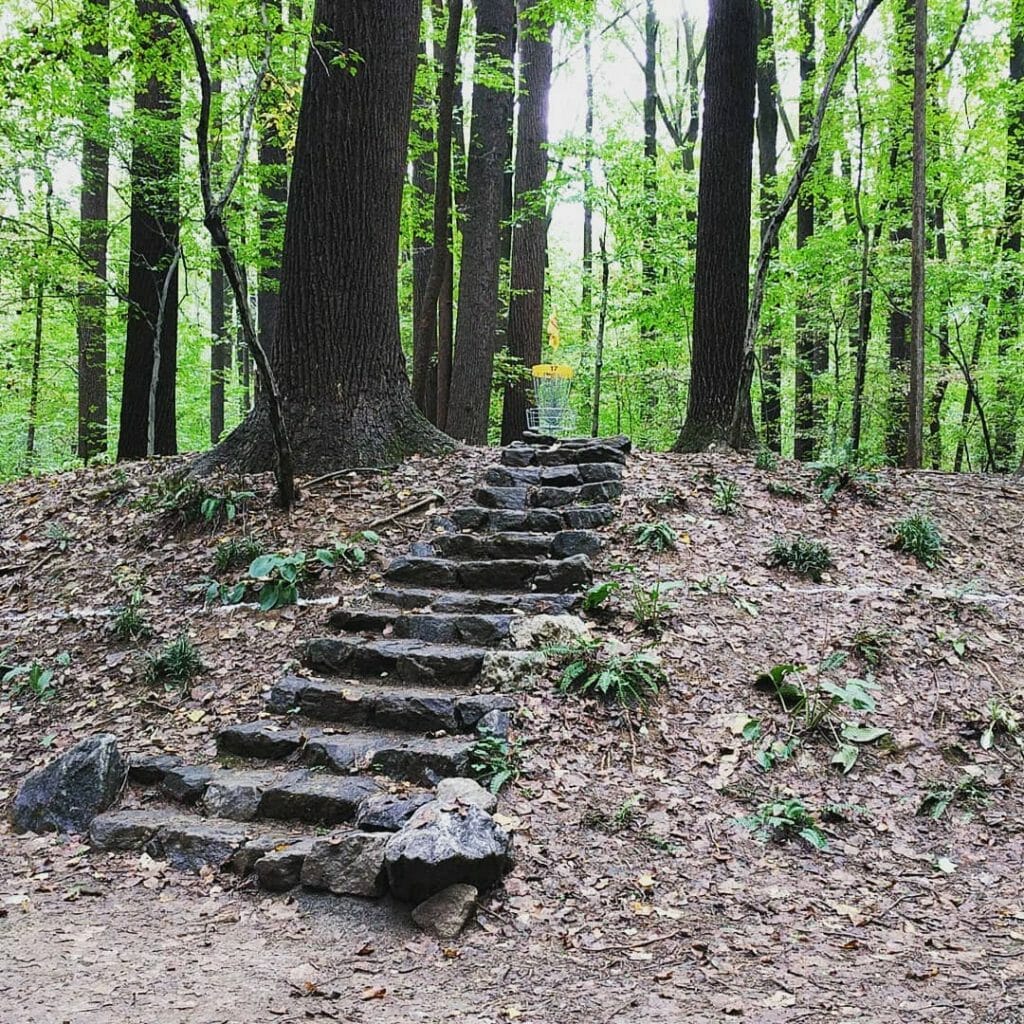 Despite what newer fans may presume, the professional disc golf season does not end with the world championships, and while the Disc Golf Pro Tour has wrapped its regular season, the PDGA National Tour rolls on at the Delaware Disc Golf Challenge this weekend at the famously challenging Iron Hill course in Newark, Delaware.
The DDGC is the last major tune-up before the United States Disc Golf Championship, but is sharing fields with the Canadian Disc Golf Championships on Prince Edward Island. Let's also not forget, and how could we, that this tournament is immediately following on the heels of arguably the most exciting Pro Worlds in recent memory.
With all of this in mind, it is not totally surprising that we will be seeing the smallest field of players in both Open divisions of any NT or Pro Tour event this year, as many players are opting out of the tournament to compete in Canada, resting up for USDGC following a grueling week at Worlds, or heading down to the Carolinas early to prepare for the track at Winthrop Gold.
This weekend will be about quality, not quantity. There is no player in the Open division sporting a rating lower than 925, and in the Open Women's division, only three of the 17 registered players are rated below 900.
Moving On and Looking Back
Part of what made this year's Worlds so enthralling was favorites such as Ricky Wysocki and Eagle McMahon essentially out of contention before teeing off on the final day. While it made for exciting golf watching some different names do their thing, if you're one of those favorites or just a fan of them, you have to be wondering where things went wrong, and what to expect from this weekend.
For McMahon and his fans, the DDGC being an NT event has to be heartening since McMahon has won three of the four NTs this season, doing so by an average of 2.3 strokes. On the flip side, Iron Hill is the type of course that has frustrated McMahon this season. The course is longer than Maple Hill, but it plays much more similar to the Brewster Ridge course at Smugglers' Notch, on which McMahon was unable to string together the types of scoring runs he has shown at less cozy confines.  McMahon may find solace in his fourth round of Worlds, however, when he shot a 1054-rated round on Brewster.
Wysocki has looked consistently inconsistent since he got back from Europe earlier this summer. Starting with Ledgestone, he has averaged 9.5 strokes behind the winner, and a seventh place finish over four events. What gives? Big numbers: two double bogeys at Ledgestone, four at MVP including three in the final round, and a triple bogey 8 on hole 7 during the final round at Pro Worlds.
Fans of the two Paiges, Bjerkaas and Pierce, will be looking at this weekend very differently. If the newly crowned World Champion Bjerkaas stumbles a bit in Delaware, that is easily chalked up to the inevitable post-Worlds come down. And while most of the touring women will be in attendance at Delaware, Pierce is in Canada, skipping another premier event on the PDGA circuit. We'll have to wait another couple weeks to see if she can turn it around at the United States Women's Disc Golf Championship.
Sarah Hokom should be expected to challenge at the Challenge. She'll be extra motivated after a rough end to her Worlds campaign, and is known for her tasty forehand lines in the woods.
It is hard to imagine that players of this caliber will continue to struggle for very long, but perhaps we are seeing limitations in their game that, up until the past couple of tournaments, the field was not able to exploit and take advantage of. Iron Hill is the exact type of course that these players have struggled with this season, and others like Gregg Barsby and James Conrad are primed to shred.
The Course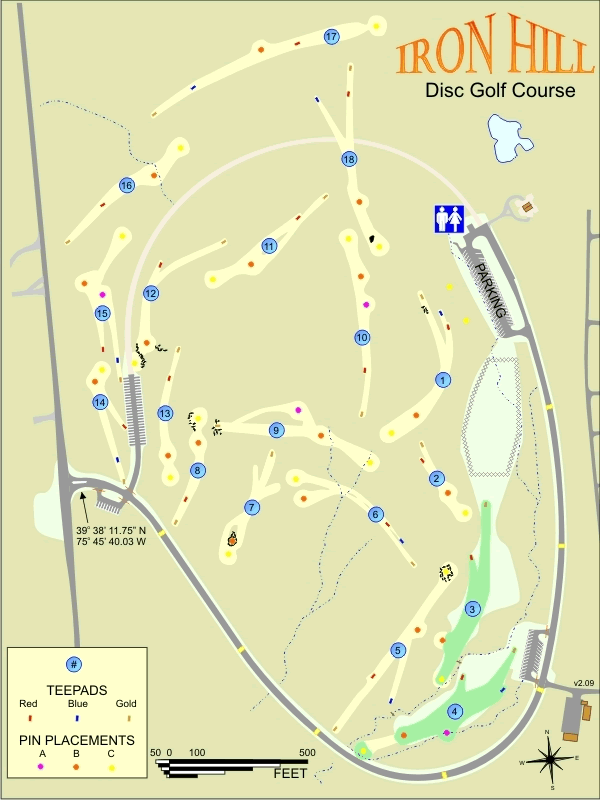 Iron Hill- Gold (Open Division: Friday-Sunday): 10,320 feet, par 72. This course is long and technical and doesn't really afford the big throwing types to air it out. Each tee shot demands technical skill and accuracy to land safely in the fairway. There are only four par threes on the course which means that for the players who are able to navigate the tee shot, there will be ample opportunities to score. This also means that scrambling and upshots will be key for players who will need to be saving or playing for par.
Iron Hill- Blue/Gold (Open Women: Friday-Sunday): 9,234 feet, par 72. Like at the MVP Open, the Open Women's division will be playing a mixture of the Gold and Blue layouts, and in some cases playing a mixed hole by teeing from the Gold box to the Blue pin or vice versa. Par is the same but the layout is shorter, which implies that we may see some very low scores from the Open
How to Follow
Check in here at Ultiworld Disc Golf for recaps of each round from the Open and Open Women field.
UDisc Live is on tap providing live scoring. Post-production, next-day video from the event is set to be released on the Jomez Productions and Disc Golf Guy YouTube channels. Gatekeeper Media will also be on site shooting video which will be available following the conclusion of the event.
The PDGA will be providing updates via their Instagram and Twitter.
Extended Forecast
Hurricane Florence will be making landfall in the Carolinas, well south of northern Delaware, to begin the DDGC. However, the effects of Florence will still be felt throughout the tournament. A few showers may be possible on Friday, especially if a far-reaching rain band from Florence can make it that far north. Gusty east and northeast winds may also be possible during the event.
Friday:
8 AM: 69° with isolated showers possible. An east wind around 15 mph will be possible.

2 PM: 78° with scattered showers possible. An east wind around 15 mph will be possible.
Saturday:
8 AM: 70° with a northeast wind around 10 mph.

2 PM: 78° with an east wind around 10 mph. Isolated showers possible.
Sunday:
8 AM: 68° with an east wind around 10 mph.

2 PM: 80° with an east wind around 10 mph.
With Iron Hill being one of the more wooded courses played on tour, the wind may not play as big a role at this event. Holes 3 and 4 appear the most open of the 18, and given an east wind throughout the event, a tailwind may be in play. I think the main weather story will be on Friday. All will be well if we can avoid a rainband from Florence, but if a rainband finds its way that far north, gusty winds and rainy conditions can be expected.