Schusterick back at first A-Tier since rehabbing injured shoulder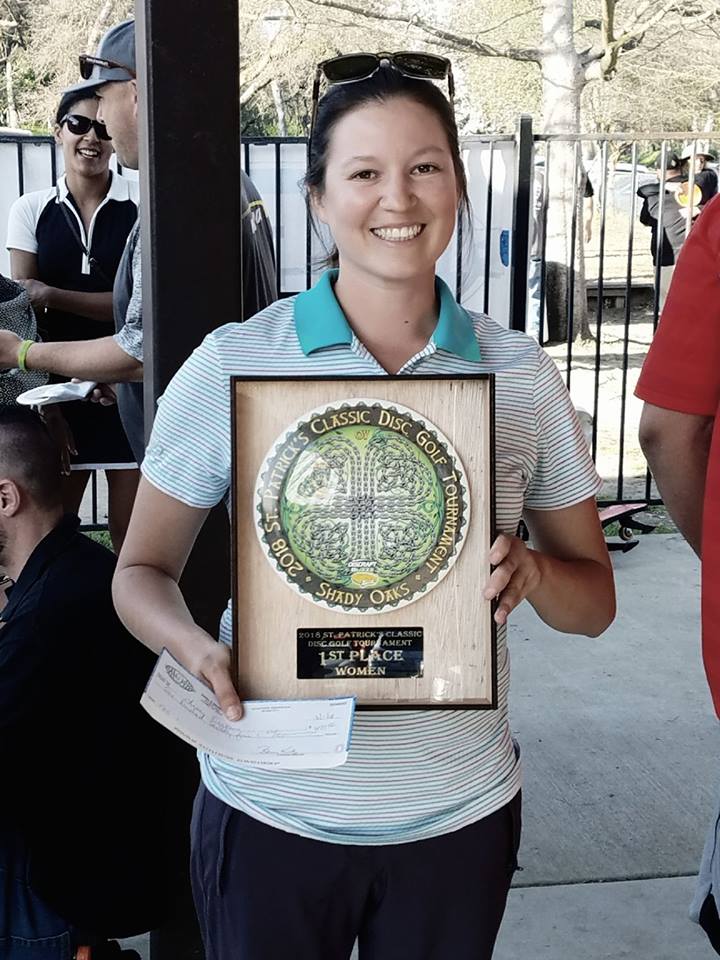 Two A-Tiers highlighted competition this weekend as the Disc Golf Pro Tour took a break between the Memorial Championship and the upcoming Waco Annual Charity Open.
One of those was the St. Patrick's Classic in Orangevale, California, where Lisa Fajkus continued her strong play after finishing second last week's Memorial Championship and emerged victorious at 4-under par 216 after a 988-rated hot first round gave her an early lead. Fajkus averaged 951-rated golf through the final two rounds to hold off Jessica Weese who was trying to defend her 2017 title at the event. Weese placed second after shooting 1-over par 221, while Lesli Todd finished in third place after shooting 4-over par 224.
Josh Anthon was also looking for a repeat of his 2017 victory at the three-round event, with the first two played on an extended 27-hole layout and a final round played on the traditional 18-hole layout at Shady Oaks Park. However, James Proctor swooped in to take the victory, powered by a 1051-rated second round. He finished the event with a 29-under par 191 total, recording his first win in 2018 in his first sanctioned event of the season. Tyler Grady and Lewis Bitney tied for second place, just one stroke behind Proctor, at 28-under par 192. Anthon and Kyle Normand tied for fourth place after shooting 26-under par 194's.
A second pro-A-Tier took place in Mobile, Alabama at the 25th Annual City of Mobile Championship. The tournament boasted an Open field with of with players rated over 1000. However, it was 998-rated Cam Todd taking the victory at 29-under par 152, two strokes ahead of Matt Orum. Orum and Todd were tied through two rounds, but Todd was able to overcome rainy conditions to shoot a 1041-rated final round at Langan Municipal Park.
Madison Walker picked up her second win in 2018 by dominating the final round, finishing at 4-over par 185. Walker's final round was the hot round in FPO by seven strokes, helping her to a 9 stroke victory. Brandie Myers picked up second place honors after shooting every round above her 871 rating. Myers finished the weekend tied with Sandy Gast at 13-over par 194's. Haley Childs picked up fourth place after shooting 17-over par 198.
Will Schusterick was also in attendance and competing in just his second event back after taking time away from the sport due to injury. Schusterick finished tied in 12th place at 16-under par 165 after his final two rounds of the event came in above his rating.
Chris Dickerson has avoided the big early season tournaments, opting to travel around the Southeast instead, which has allowed him to keep his impressive win streak alive. Last weekend at the Creekside Open in Archdale, North Carolina he notched his 11th straight victory, a run which dates back to late 2017. Dickerson was certainly challenged though, starting the final round with a two-stroke deficit to Nathan Queen. However, Dickerson used a 1065-rated final round to take a five-stroke win. Dickerson finished at 34-under par 134, while Queen finished at 29-under par 139.
Kevin Jones was back to his winning ways at the Crush on the Concho in San Angelo, Texas. After a top 10 finish at the Las Vegas Challenge, Jones struggled at times at The Memorial, finishing in 35th place. Jones was more consistent last weekend, recording 1029, 1032, and 1033 rated rounds while finishing at 17-under par 154. Bradley Williams and Colten Montgomery were right on Jones' heels down the stretch, both finishing tied for second after shooting 16-under par 155's.
Catrina Allen picked up her first win of 2018 by four strokes after recording a 15-over par 186 total through three rounds. Ellen Widboom took second with a 19-over par 190, three strokes ahead of Stephanie Vincent who finished third.