McBeth holds two-shot lead heading into today's final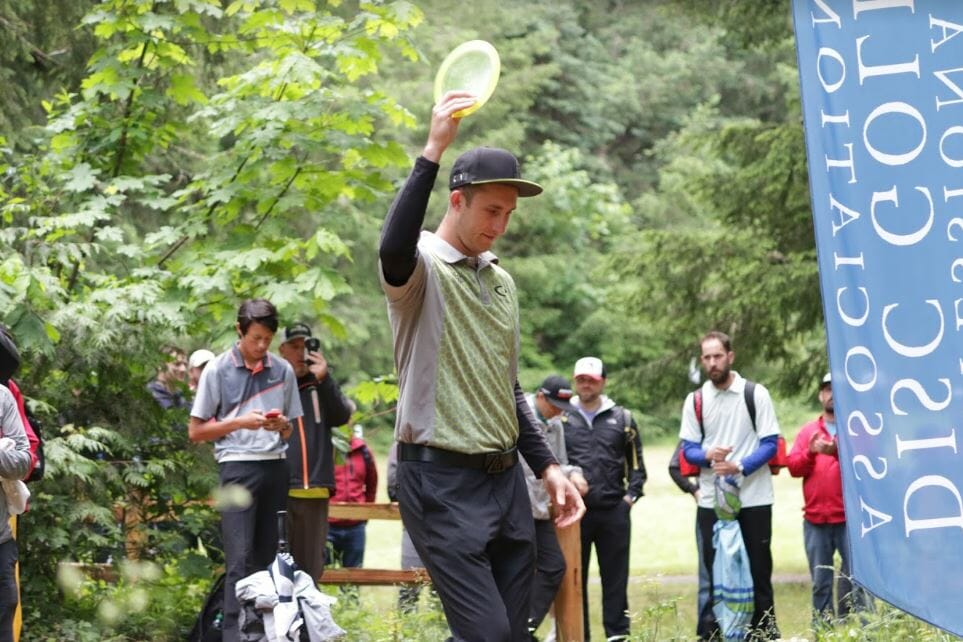 After a sluggish second round performance on Friday that he called "disheartening," Ricky Wysocki fell out of the lead and into fifth place at the Beaver State Fling. But with his hometown Cleveland Cavaliers seeking to extend the NBA Finals that night, he sought refuge in front of the television and, in turn, was rewarded with inspiration.
"I was so pumped last night for how good they played, and I was like, 'You know what? I'm gonna try and carry this momentum the Cavs created for me,' even though I'm not on the team," Wysocki said. "But yeah, it's just funny. Other people have asked me that, and subconsciously I think it did actually help me get into a good mindset this morning coming into the third round. So I think I actually can attribute some of — they pumped me up, just by watching the game and seeing how well they played, and I wanted to translate it over to the disc golf course."
And so, like Kyrie Irving with an open look for three, he returned to Milo McIver State Park's Riverbend West Course yesterday and rained buckets.
Wysocki's 1074-rated, 11-under par 50 gave him the hot round on moving day at Milo and lofted him into second place with a 21-under par 162 total. Paul McBeth remains atop the leaderboard after his 7-under par 54 led him to a 23-under par 160 total, while Anthony Barela threw a 6-under par 55 to remain in third place at a 55-over par 165. He shares that position with Eagle McMahon, who shot a 4-under par 57 to slip one spot down in the standings. Veteran pro Steve Rico tossed the day's second best score — a 1058-rated, 9-under par 52 — to move up six places and into fifth place with a 16-under par 167 overall.
Wysocki's performance was one shot off the West Course record, which is held by both McBeth and Gregg Barsby. And just like he did in round one on Friday, Wysocki got off to a hot start, this time carding birdies on the first four straight holes as he looked to dig out of his second-round hole.
"With me being down six, I don't have holes to warm up," Wysocki said. "l just felt comfortable right out of the gates and I knew that I had to start making a charge out of the get-go to put some pressure on the lead group and really get myself back in contention."
He picked up two more birdies before hitting a rough patch in the middle of the course, going bogey-birdie-bogey on holes 9 through 11.
"I don't know, I lost focus there for a second, I think," Wysocki said. "But honestly, I think it triggered me to finish the way I did."
Undaunted, Wysocki made like LeBron and closed the round with authority. He carded six straight birdies, a feat matched only by Rico during the round, before connecting from 40 feet to save par after a drive into the rough on hole 18.
"I knew that I wasn't gonna be winning after today's round, and I was fine with that," Wysocki said. "I don't need to be winning after today's round — I just need to be in striking range. And I knew I had to come back from those bogeys and finish strong to give myself an opportunity. And not only an opportunity, but just to feel comfortable that I can still win tomorrow."
Entering the round with a two-shot lead over McMahon, McBeth similarly started the day off strongly. He carded birdies on three of the first four holes, then added another on hole 7 to match the pace he set during round one at West. He found some misfortune on hole 8 — the same hole on which he scored the field's lone deuce on Friday — that resulted in his first bogey of the round.
"I had a [look for] 2 and I went off the cage from like 50, maybe, and it rolled right out of bounds," McBeth said. "That was a little two-stroke swing there, so I had some weird little things happen today. Overall, I'd probably say I played the same, if not a little better [than Friday]. Just didn't get the scoring."
Though the round didn't entirely fall his way — he added strokes to his score with two rare inside the circle misses on holes 10 and 13 — McBeth relied on a strong mental game to not let the mistakes bring him down.
"It definitely is frustrating, but just playing this for so long it's like, alright. You know, just gotta move past it," McBeth said. "There's a lot of players around that would hold onto that, and then a lot of players that still play this game for a long time and have been on top — they still hold onto those things and let it affect them, possibly throughout their weekend. It's just forgetting it and moving on."
Rico's round was his second best of the year, behind his 1073-rated second round at the Memorial Championship in March. The Legacy Discs honcho hasn't been as much of a fixture on the national touring scene this season — the Fling is only his second event outside California in 2017 — but McBeth said it was encouraging to see him climb the leaderboard.
"Stevie has struggled this year, and it's awesome to see him play well because he's got so much support," McBeth said. "He has so many fans out there that it's always great to see him playing well and seeing Steve happy out there and enjoying his time, because he loves this game. But he's dedicated so much more lately to manufacturing discs and spreading disc golf than actually playing it himself."
Now looking for his third career Beaver State Fling victory, McBeth said he would need to improve on his Friday performance at the East Course — he threw a 7-under par 54 there on the back end of the tournament's day one doubleheader — in order to stand on top of the podium this evening.
"I have to shoot a consistent round," McBeth said. "I have to score. [Friday] I didn't play the course that we're playing tomorrow too well…Didn't get as many 2s as I'd like out there and took way too many dumb strokes. Well, I didn't give away [strokes], but there were some things I didn't take advantage of."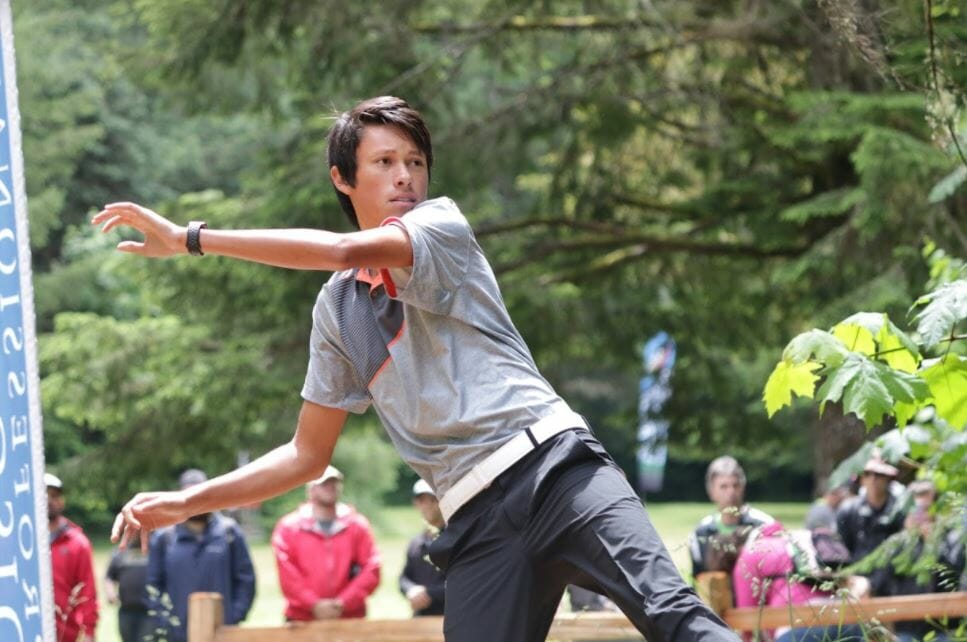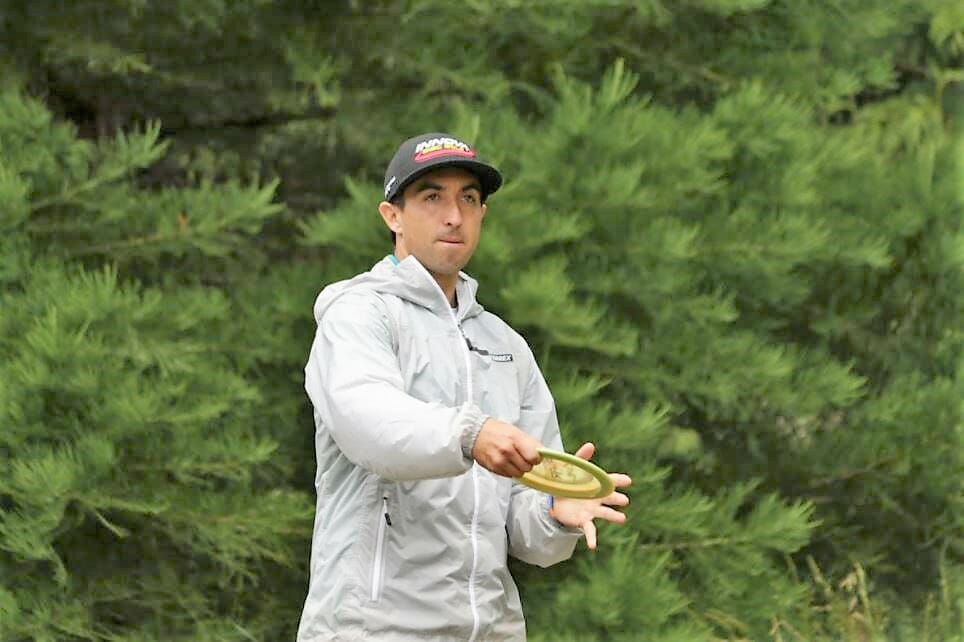 He'll be joined on the lead card by Barela, who is known as somewhat of a McBeth protégé. The two met at the 2012 Memorial Championship — "I think I asked him if I could caddie for him, and he let me," Barela said — and the 17-year-old shares many of McBeth's mechanical traits.
"It's like a little mirror," McBeth joked. "Except he's like almost a foot taller."
Barela, who just finished his junior year of high school, chalked up his recent strong play to improved consistency and understood what it meant to be joining his mentor on the lead card for the final round of a PDGA National Tour event.
"It's pretty crazy to think that," Barela said. "I never thought that I would go this far in this sport, so it's awesome."
Wysocki, meanwhile, said he did not think a two-shot deficit would be too much to overcome as he aims to become the first repeat Beaver State Fling winner since Barry Schultz's three-peat from 2004 to 2006.
"I don't just get myself in contention to be there — I want to take advantage of it," Wysocki said. "There's a big difference between getting yourself in contention and being happy with being near the lead, and I'm just not one of those kinds of people. If I get myself in contention, near the lead, I want to take advantage of it. So that's exactly the way I'm feeling right now, and there's totally nothing that's gonna stop me from walking in with the mindset tomorrow and willpower…to win."
The lead card tees off again at 12:30 p.m. Pacific time, with PDGA Media on hand to provide real-time scoring and Twitter updates.