Anthon moves into second place tie after the day's best score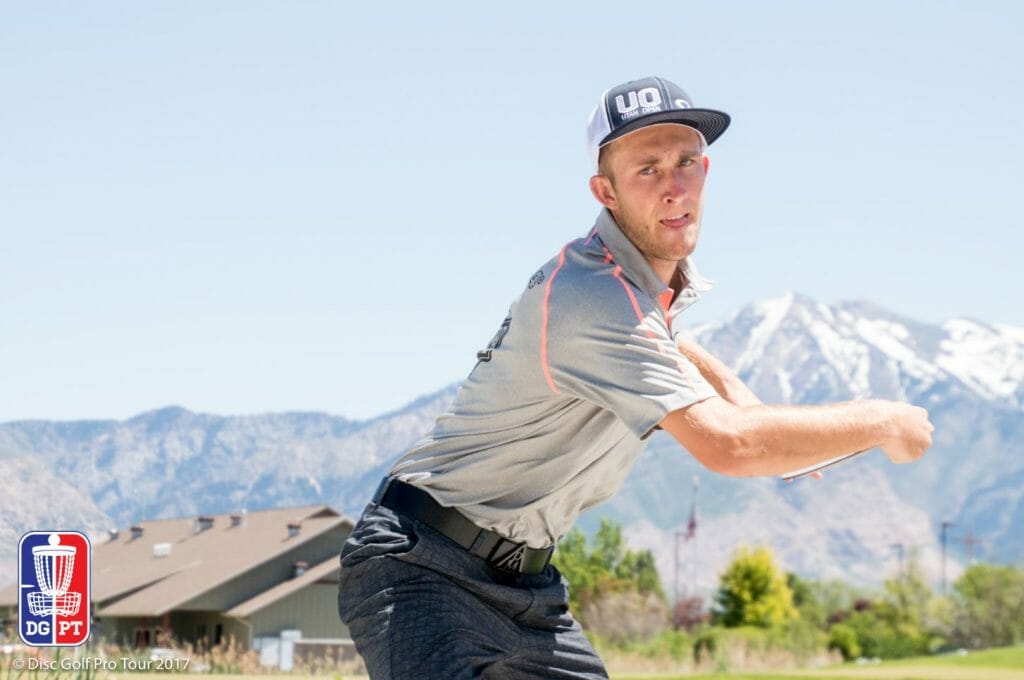 It served as a bit of déjà vu, but Ricky Wysocki closed round two of the Utah Open yesterday just as he did round one: a death putt, ice water in his veins, and chains. Rinse and repeat.
This time, though, it capped off a 7-under par round and, perhaps more significantly, helped him open up a three-shot lead heading into today's final round at Mulligan's Creekside Disc Golf Course.
Wysocki's 15-under par 101 has him ahead of Jeremy Koling and Josh Anthon, who both sit in second place with 12-under par 104s. That trio will be joined on today's lead card by Drew Gibson, who threw a 6-under par 52 to move to an 11-under par 105 and into a fourth place tie with Paul Ulibarri, who struggled en route to a 3-under par 55 on the day.
True to his word that he wouldn't need nine holes to warm up as he did during round one, Wysocki got off to a hot start by carding three straight birdies to start the round. He added another with a park job on hole 6, but then ran into some misfortune on hole 7 when a dead-center par attempt from 15 feet spit out, leaving him to collect his first bogey of the day.
Koling, meanwhile, at times kept pace — he took three birdies on the first four holes — and at others failed to capitalize on opportunities. He landed in an OB bunker off the tee on the same 7th hole where Wysocki spit out, but could not convert on his bogey save from 25 feet and lost a stroke. Koling then landed in the bunker again on hole 8, but this time did save his par with a beautiful uphill putt to stay one back of Wysocki, who airballed his birdie attempt.
The back and forth continued with Wysocki and Koling both carding birdies on hole 9, but Wysocki's torrid early pace cooled as he followed up with four consecutive pars. Koling took two strokes back on that same stretch with fist-pumping 50-foot birdie putts on holes 10 and 13, and the lead was in his hands.
As Wysocki and Koling battled it out on the lead card, Anthon made a move from two groups ahead. His bogey-free 9-under par vaulted him eight spots up the leaderboard largely on the back of perfect putting inside the 10-meter circle. He also dramatically improved his scramble rate, bringing it up to 100 percent after struggling to a 40 percent mark during round one. At one point, he was tied with Koling for the virtual lead on the course.
That did not last long, though, as Wysocki got hot late to pull away from the pack. He started the festivities with a smooth birdie putt from circle's edge on hole 14, then executed the par 4 15th with ease. He then canned a 50-footer for birdie on hole 16, while Koling found yet another bunker on the same hole to lead to a bogey. Though Wysocki skipped OB for the second straight day on hole 17, that matching sequence led him to yet another climactic putt to close the round.
Elsewhere on the course, a couple of young pros did some heavy lifting on moving day. Anthony Barela climbed eight places and into a tie for sixth place after his 8-under par 50, while Austin Turner's 7-under par effort found him moving up five spots and into a ninth-place tie with Eric Oakley, who also tossed a 7-under par round.
The lead card tees off for the final round today at 4 p.m. Eastern, with live coverage coming on SmashboxxTV and via UDisc Live.