Iowa State, Wichita State among top performers moving on to Augusta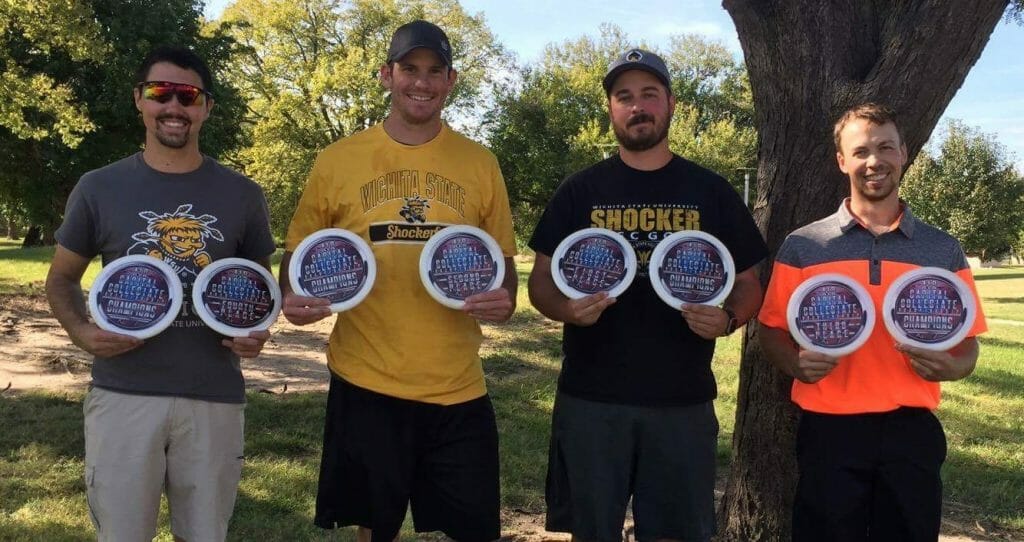 It was another busy weekend in college disc golf, with four teams earning a bid to the National Collegiate Disc Golf Championships in qualifiers across the country.
Iowa State guaranteed themselves a spot in the NCDGC next April with a victory in the Minnesota Collegiate Disc Golf Championships, using strong team play to secure their 11 stroke win over last year's sixth place finisher, Wisconsin-Stout. Iowa State took home $400 in prize money for their efforts and Wisconsin-Stout earned $200 with their second place finish.
Minnesota-Duluth finished in third place, but earned the tournament's second bid to the big dance, with Wisconsin-Stout's spot already secure from last year's NCDGC finish. In the individual competition, Wisconsin-Stout's Justin Lammers shot a 9-under par and held off Iowa's Brady Hanna by 1 stroke to earn the victory.
In the Air Capitol Collegiate Championship, host team Wichita State dominated the individual competition by taking each of the top four spots. Ben Nispel led the way with a two-round score of 7-under par 101. He was followed by his teammates Micah Fouquet (-5), Spencer Neises (-4), and Skyler Struble (-3). The individual results allowed for Wichita State to crush the competition, beating the second place team, Colorado State, by 43 strokes. Wichita State, who finished 21st in last year's NCDGC, was without their best player from last year, Derek Dean, but he will be back in time for the championship in April.
After the tournament individual champion Ben Nispel expressed confidence about his team's hopes in April.
"I think we have a deep squad and have a real shot at a title run this year," Nispel said.
The Boilermaker Battle, hosted by Purdue, took a unique approach on collegiate competition. In order to raise awareness for College Disc Golf and to increase the number of participants, the Boilermaker Battle was open to non-collegiate amateur players. One of these players, Joel Wesseling – a 2011 Purdue graduate – took home the individual title with a 9-under par, two-round score of 112. Purdue's Luigi Villani (+2) was the highest collegiate finisher in field in third place. Purdue was the only collegiate team to field a full team and was awarded the tournament's bid to the championship.
The United States Disc Golf Championship was not the only competition affected by Hurricane Matthew: Winthrop Gold was also host to the Dean's Cup Invitational, which brings in top collegiate disc golf programs from across the country. This year's Dean's Cup included the reigning national champion, Augusta University; last year's regular season champion, North Carolina State; the highest-ranked team in the East super region from last year, Liberty University; and the highest-ranked team in the West super region, the Oregon Ducks.
In the semifinal round, Oregon held on to a one stroke lead over Augusta University after Chase Pruitt threw in a birdie from 90 feet on hole 14. In the other semifinal matchup, NC State dominated Liberty. The finals of the Dean's Cup, though, had to be canceled, mid-round, along with the final round of the USDGC. NC State and Oregon were awarded a co-championship.
In the first full week of Southern Collegiate Disc Golf Association play, Hendrix College (1-0) beat Arkansas State (1-1), while Ole Miss (1-0) beat Rhodes College (0-2).
On Friday, Ole Miss traveled to Bud Hill DGC in Memphis, Tennessee, for their first SCDGA match. Alan Logan, Tyler Flynn, and Dean Ramsey each earned singles victories for the road team, while Joey Carton picked up the lone singles victory for Rhodes College. In doubles play, Ole Miss shot the hot round of 47, which bested Rhodes' round of 53 by six strokes to earn two points toward their total score and make the final score 5-1.
In their first ever collegiate competition, Hendrix College topped Arkansas State by a score of 5-1 at Beaverfork DGC in Conway, Arkansas. Using singles victories from Drew Coker, Nate McKenna, and Baker Helton, Hendrix went into doubles play up 3-1. Hendrix capped off their win by shooting a 14-under par 40 to earn the two points from doubles play and secure the victory.
After a busy first few weeks of the qualifier season, collegiate disc golf hits a lull next weekend, with the only qualifier being the Iowa City Classic. The Southern Collegiate Disc Golf Association will also continue play.